It is always the same conversation. The questions begin with "where are you from?" and quickly gravitate to "what do you do?" which of course means "where do you work?"-"how much money do you make?"-"how important are you?".  My husband hates these questions too, but at least he has a response. His career in law enforcement comes with an impressive list of "who's who" dignitaries and many colorful tales of his time driving on the road as an officer, working in intelligence, attending the FBI academy and overseeing the 2002 Olympic Games. I am proud of all he has done and appreciate all of his hard work, but as everyone at the table swaps stories, I begin to seek for my own validation.
What have I done in the half century I've been here? Well, it has turned out much differently than I had planned. I am not athletic or musical by nature. I never finished that college degree and never wrote that book I wanted to write. While I have worked at various jobs as needed to supplement income over the years, I never had that prestigious career I had once imagined. It isn't that I don't have anything to offer or that I'm not ambitious. It is just that I found something much better than I ever expected.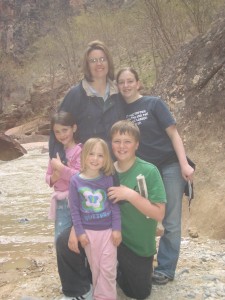 It seems commonplace to most: it happens every day. This thing I did really is quite
miraculous however. I (with a little help from my husband) gave life to four beautiful souls who grew up to be remarkable, amazing human beings. My body nourished those babies inside of my abdomen for a few months, and then my heart nurtured them for a lifetime.
During those first months of morning sickness, fatigue and stretched muscles, I literally breathed, ate and slept for new life. Even my overly emotional heart beat for someone else. I eventually had to share these babies with the rest of the world, but I had nine months to spend alone with each one. I listened as their tiny hearts beat in perfect rhythm and eagerly watched shadows move on a cloudy ultrasound screen. I laughed as I felt them move and stretch, and I took a few good kicks in the stomach now and then. Neither of us was very comfortable, but I (mostly) enjoyed the time I got to spend getting to know each child. Long before I saw each tiny face, I loved and cherished these babies.
I have now spent a lifetime watching each child grow physically, emotionally and spiritually as each individual personality evolved right before my eyes. I have laughed, cried, cheered, worried, listened, hugged, celebrated, lectured, apologized, prayed, refereed, complained, coached, cleaned, budgeted, planned, hoped, chauffeured and thrown more than a few temper tantrums along the way.
Through it all these four children have permanently grown to be a part of me, like the four chambers of my heart. Each has a unique disposition and a purpose and was so wanted, valued and needed. I may have provided a warm place for their bodies to grow and develop, but in turn they made my own life worth living. I may have kissed their skinned knees away with designer band-aids, but they have healed my broken soul in ways they will never understand.
In a word? I was and am tired. In those early days of exhausting diaper changes, upset tummies and bleary-eyed nighttime feedings, I often stayed up a bit later than necessary, long after they were asleep, holding them close, just to capture a few more moments. Then I soon found myself staying up later at night than is reasonable, often pacing anxiously for a teenager's safe return. I not only needed to know they were home but also wanted to spend a few minutes catching up on the details of their lives. More than one night has been spent tossing and turning as I worried and stewed about friends, school, social media, driving and everything else I saw on the news.
There isn't exactly a retirement account waiting for me to compensate for the lost sleep, but I have in fact been paid A LOT. There are the stereotypical memories of newborn babies, first steps, first words and first dates, but there is so much more.
I enjoyed a little girl's dance recital one day and then went shopping for her wedding dress the next. I listened to my perfectionist daughter practice and then perform beautiful piano pieces. I sat in awe as she played tennis, participated in the school play and sang the national anthem at the high school stadium during her senior year. I watched a child struggle to learn to write her name and later helped her prepare her high school valedictorian speech. I met her for lunch more than once to talk about life, boys and college. We toured San Francisco and later Ecuador together. And then in the course of one week, this beautiful bride received her college diploma and a husband.
I cheered as I saw #65 run out on the field and sat through a few miserably cold football games. I sat next to my one and only son as he proudly carved a pinewood derby car and once again as he drove his first pickup truck. Right before my eyes, my Cub Scout evolved into my Eagle Scout. I walked miles with my toddler in the stroller, stopping to look at every piece of equipment along the way.  A short time later I watched with tears in my eyes as that little boy graduated from college at the top of his class and began working as a mechanic for John Deere. I am the mother of a Skills USA collegiate winner and a FFA national competitor. To this boy's chagrin, I may have shed a tear or two on his wedding day (and not just because of the typo I made on his wedding invitations).
I unexpectedly gave birth to a picture perfect baby on my 30th birthday, and we have celebrated together ever since. I watched this precocious little girl make new friends every time we went to play at the park. I smiled as she climbed trees and collected rocks and bathed the neighbor's goldfish.  I cheered enthusiastically for my daughter as she dove off the block at countless swim meets while I nervously watched the time clock and calculated splits. I jumped out of my seat in excitement every single time #9 scored a goal at a water polo game. I shopped for goggles and speed suits and prom dresses. Then, all too soon, those adorable baby pictures have been replaced by those cap and gown high school graduation photos.
I watched our youngest, our little mother, lovingly cuddle her many babies and teach pre-school to her classroom of assorted stuffed animal students. I drove her to early morning practices and sat on the edge of my seat when she competed in the state archery competition. I applauded as my baby sang a beautiful Taylor Swift solo at the choir concert. I have been served many delicious cupcakes by our resident baker and celebrate with her every time she brings home another " A" on her report card. I have reassured this child every single day of her life and then celebrated when she overcame her fears and went zip lining in the Costa Rican jungle. I am holding onto this one for dear life before high school sweeps her away.
My children have taught me many valuable lessons, but mostly I learned to be flexible. I continue to be stretched in ways I didn't know were physically or emotionally possible. Sometimes I run out of patience, often there isn't enough money, and no matter how fast I run, there is never enough time. It has been an intense, crazy ride as I have watched kids steal home base and hit grand slam home runs and struggle through after-surgery recovery. I wouldn't have missed this ride for the world. I have survived Disnleyland, teenage drivers and many ER visits as the kids have suffered through head injuries, stitches, severed thumbs and broken toes. It has been a time of transition for all of us. I have struggled through the tears of little ones cutting teeth, searched (with the tooth fairy) for lost teeth at the playground and may have fainted during wisdom teeth removal at the dentist's office.
So, finally getting back to answer that question-what do I do? I am a mom-a simple choir, tennis, football, FFA, swim, water polo, softball, junior prom, PTA mom. I bake cookies and chaperone field trips. I plan birthday parties, raise turkeys and fold many loads of laundry. I nervously grip the door in the passenger seat next to a new driver and provide snacks for the softball team. I help with science projects and memorize spelling lists and fill out college applications. With tears in my eyes I watch little ones get on the school bus for the first time and then with a lump in my throat, watch as they walked to receive their high school diplomas. Through it all I wonder how it went so fast and worry every single day that I am doing it all wrong.
I am not a perfect mom by any stretch of the imagination. There are things I wish I would have done differently, things I wish I wouldn't have said. Spoiler alert—my kids' rooms are messy, they don't always get along and I doubt there has ever been a day when I was caught up on laundry.  I continue to make many mistakes and have shed my share of tears as I slowly let go of the perfect little hands that once so tightly grasped my finger. But I have learned that mistakes are allowed and memories last forever.
When I am called home, it will be a short obituary. I may not have much of a resume to show for my life, but I was and am and always will be a mother. I can exit this world in peace someday because I know that I will be leaving the best part of me behind.  I hope that day doesn't come too soon, however, as I hear grandkids are wonderful. In the meantime I am so glad to be called "mom" by my favorite people on the planet. Together with my husband and with much help from the God who gave us all life, I became a mother.  In this tiny, seemingly insignificant garden patch I was given to cultivate, I changed the world.